Supporting offers for international students during the studies
As TUHH international student you can contact the International Office if you need assistance both- with initial orientation at your study start as well as during your entire studies.
We offer general counselling in the case of social problems and decision making, regarding financial support and scholarships.
We are running integration program Welcome@TUHH with the aim to support students, to give them orientation and to help them to develope intercultural skills. Welcome@TUHH program offers:
We as well provide you with more detailed information and helpful advice on following issues:
Please note that during the Covid- 19 pandemic we are offering individual consultation on Zoom as well as group info sessions on specific topics and important issues. Check further details and times on our website
---
Important information concerning visa and residence permit before, during and after your studies in BRD can be found in the information brochure for international students.
Information on residence right for foreign university graduates can be found in the Brochure of the Ministry of the Interior. You can as well visit the Special- Info- Event (taking place every year, in German language) about "Residence right for employment for successful university graduates".
For arranging/extending your residence permit in Hamburg as well as further guidance and questions you should contact the aliens registration office. Further information on the Hamburg- Websites
________________________________________________________________________________________________________
The TUHH supports the National Code of Conduct for German Universities Regarding International Students.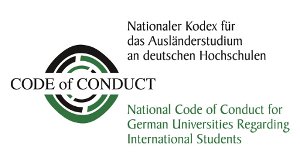 This Code of Conduct aims to ensure that students from abroad receive the quality of support and advice needed when studying in Germany. The guiding principle is, wherever possible, to grant international students the same rights as are available to German or EU students. Any non-compliance with the National Code of Conduct could be reported to Nicole Frei, Manager of Internationalisation at TUHH.